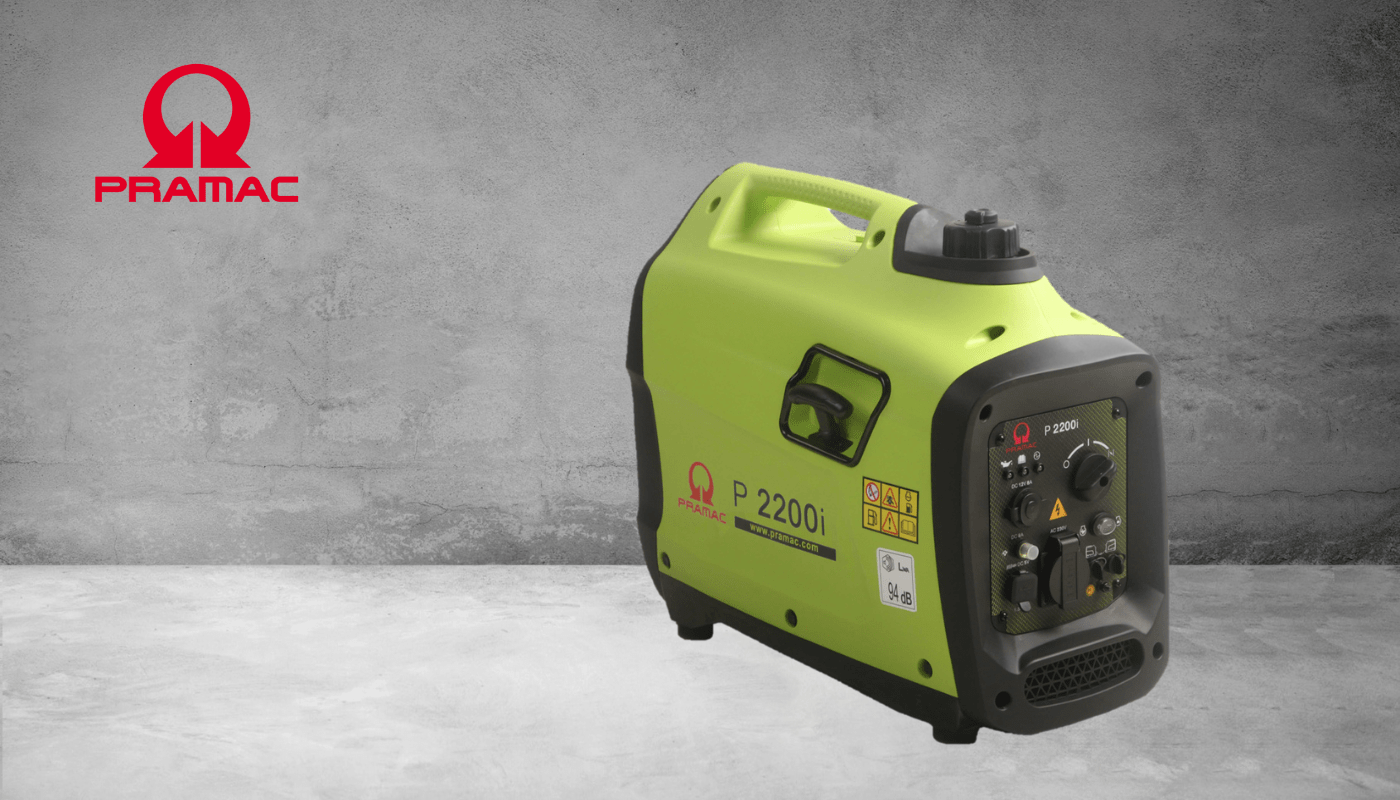 Portable Generators Range Extension. The New P2200i Strengthens the Pramac Inverter P Series Generators Range
Autumn 2021 Pramac expands its portable generators offering by launching the P 2200i, thus adding a new and exciting high performing unit to its proven and well-liked Inverter P Series range.
Pramac wide product offering includes gasoline, diesel and gas (natural-gas and LPG) powered generators, designed to address a broad range of the most demanding applications.
Within the Pramac product offering the Inverter P Series range offers lightweight and compact packages, high quality power output and unmatched fuel-efficiency and ultra-quite operation.
The new P2200i like any other Pramac power generator is designed having the toughest professional applications and environments in mind.
Pramac patented designs and state-of-the-art manufacturing ensure long-lasting reliability, high energy efficiency, advanced ergonomics and unmatched acoustic comfort.
Pramac proprietary TruePower™ technology provides clean power, perfectly suited for sensitive electronics. The electronic adjustment of the engine RPM, to exactly match the actual power load, saves fuel, improves the acoustic comfort and protects the environment, ensuring emissions well within the limits set by the toughest national and international standards and regulations.
For maximum flexibility the unit's control panel boasts two integrated USB ports, one 12V DC outlet, and one 230V, 50Hz, 16A Schuko socket. To further enhance its flexibility the new P2200i comes out of the box fully compatible with the Pramac Parallel kit* (sold separately), thanks to specific receptacles mounted on the control panel. By connecting two P2200i to one Parallel kit, customers can meet higher output requirements, powering multiple appliances at the same time (for a total output of up to two times the rated power output of each individual P2200i).
The P2200i durable and compact enclosure, its easy portability and a run time of up to 4.5 hrs. (at 75% capacity) make it the ideal generator for a wide range, among the most demanding professional and recreational of applications.
New Inverter generator Pramac P 2200i: tomorrow's Power Generation delivered today.
Technical specifications:
• Max power output: 2.10 kW
• Rated power output: 1.90 kW
• Voltage 230 V and frequency 50 Hz
• Pramac engine, recoil starting system
• Engine rpm: variable, depending on power load and operating conditions
• Fuel: petrol
• Fuel tank capacity: 4.5 l
• Fuel consumption at 75% load: l/h 1
• Noise level (acoustic pressure at 7m): 66 dB(A)
• Weight (as shipped): kg 21
• Economiser: automatic adjustment of engine speed to save fuel and reduce noise
For more information on the Pramac Inverter P series, please visit the product page: https://www.pramac.com/product?id=10940&folder=69
* Important Notice: Connect two Pramac Inverters P Series to double the power output available (Rated Power Output). This feature is not applicable to P2000i. Requires the pairing of two identical Pramac inverter generators (same Rated Power Output). Parallel kit sold separately.