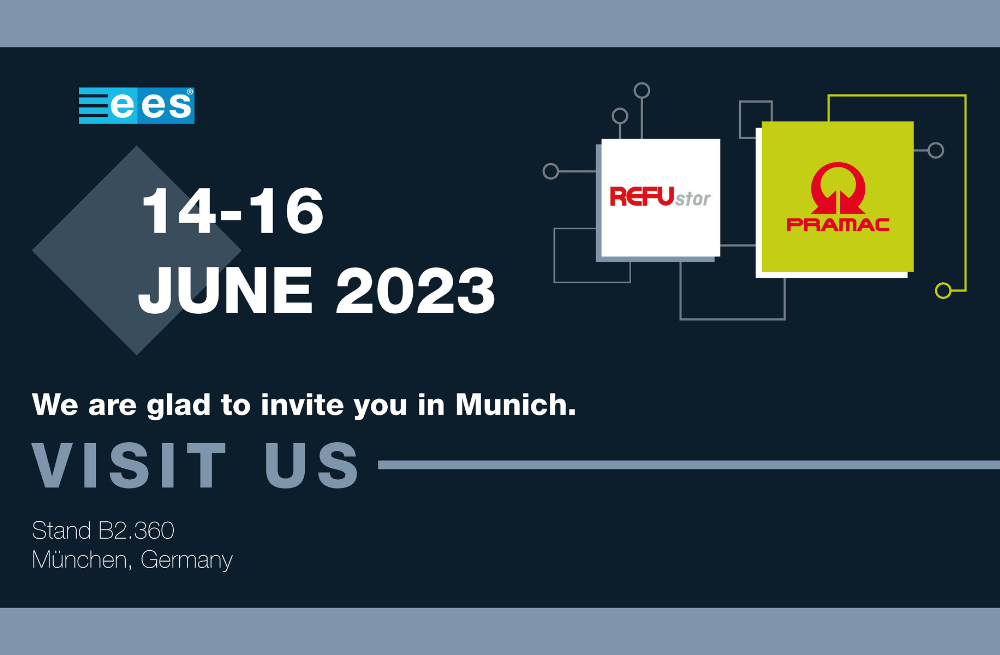 Visit us at EES/InterSolar Europe from the 14 to the 16 June in Munich, Germany
Pramac will attend EES/InterSolar Europe, the leading exhibition for solar, batteries and energy storage systems, as REFUstor and Pramac brand, signing the evolution to a solid and leading company that produces innovation and competitiveness in the sustainable energy field.
The PRAMAC Group, since 1966, has evolved its product portfolio, becoming the global benchmark for generators, battery storage systems, light towers and warehouse material handling equipment.
The acquisition of REFUstor, a leading provider of power electronics, systems and energy management in the field of battery storage, and the establishment of a new dedicated business unit for these systems is further evidence of Pramac's commitment to expanding its product portfolio and meeting the increasing and evolving customer's needs.
At the stand, visitors will touch the innovative product portfolio of Indoor and Outdoor Storage Solutions dedicated to several industrial applications. With the high level of technical know-how coming from the REFUStor team, Pramac daily lead and support the global energy transition. Commercial and Industrial battery storage plays a central role in this passage and provides a crucial component for a sustainable and reliable energy supply and significantly reducing CO2 emissions.
Visitors are invited to experience the synergies between REFUStor and Pramac, in Munich from the 14 to the 16 June 2023.
Stand B2.360 – Halle B2
EES – Intersolar 2023 
June, 14/16 – Munchen Messe (Germany)
Opening hours:
Wednesday – 9:00am-6:00pm
Thursday – 9:00am-6:00pm
Friday – 9:00am-5:00pm