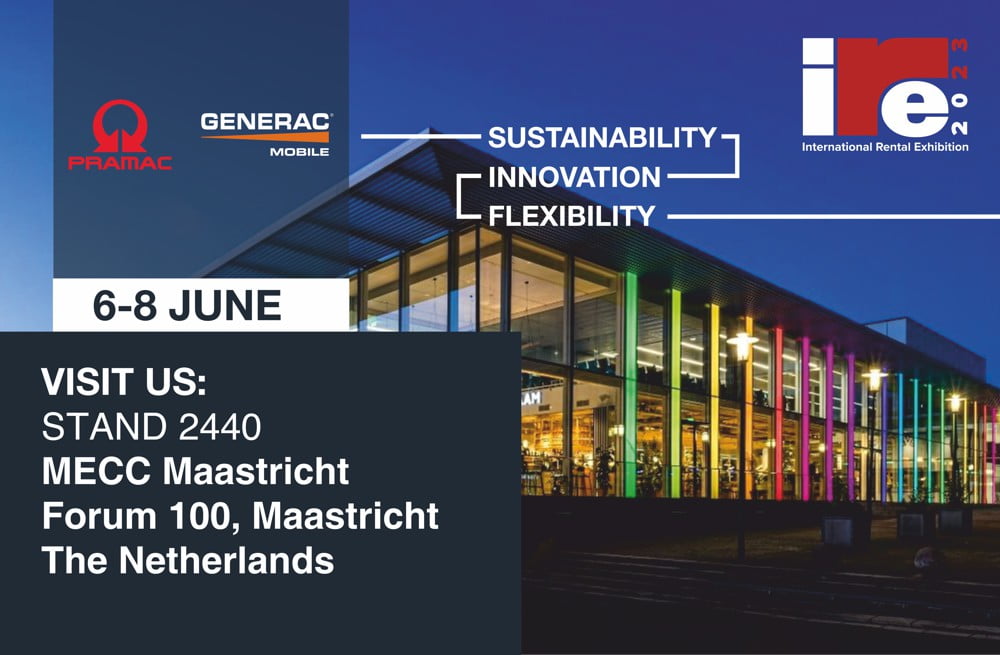 Visit us at IRE2023! From the 6th to the 8th of June in Maastricht, The Netherlands.
PRAMAC and Generac Mobile will attend IRE, International Rental Exhibition, the tradeshow for equipment rental, compact machinery, and rental IT; the event will take place in Maastricht MECC, The Netherlands, from the 6th to the 8th of June.
Visitors will have the chance to get a look at Pramac and Generac Mobile's ranges of lighting towers, battery energy storage solutions, and rental hybrid generators, focusing on technological advancements.
The generators with a modular design ensure low consumption and reduced polluting emissions. The hybrid models, which combine a lithium battery with a Stage V diesel generator, allow the operators to entirely manage the power system, selecting different working modes based on specific requirements and expected workloads.
In the batteries field, the group will also present the BESS range with three different sizes that can be used as a stand-alone solution or coupled with energy sources, such as a diesel generator, to form a hybrid system entirely governable by the BESS controller. This combination optimizes the use of both units based on load changes, resulting in improved efficiency, reduced consumption, and lower emissions.
Finally, mobile lighting towers will be featured, including the most environmentally friendly novelties, like the new hydraulically lifted solar model, which ensures zero noise and carbon emissions during operation. Portable plug-in models and a battery-driven unit with a new design and higher-performance components, with LED floodlights with adjustable power to regulate the illuminated area and available running time, will be showcased.
IRE serves as proof of the Group's commitment to deliver environmentally sustainable models on the market that combine exceptional performance with the latest technology, for a sustainable bright future. Don't miss the show and plan your visit!
Stand 2440
IRE 2023 – June, 6/8 – MECC
Forum 100, 6229 GV Maastricht
The Netherlands
Opening hours:
Tuesday – 9:30am-6:00pm
Wednesday – 9:30am-6:00pm
Thursday – 9:30am-5:00pm